Star Wars: "Return of the Jedi" 40th Anniversary | "Clash at Carkoon" Fine Art Print | Officially Licensed | ©️ & ™️ Lucasfilm Ltd.

No, your eyes don't deceive you because of temporary blindness due to hibernation sickness after being frozen in carbonite.  Shag has brought to the galaxy a Star Wars fine art print! 


In commemoration of the 40th anniversary of the Return of the Jedi, the 6th chapter & final Star Wars film of the original trilogy, Shag (Josh Agle) throws you into the action with his Clash at Carkoon 15-color serigraph!


Officially licensed by Lucasfilm, Shag recreates the great escape of Han Solo from Jabba the Hut over the Sarlacc pit on Tattooine!  Let the force guide you to find the perfect spot for this limited-edition fine art print in your space! 

15 Color, Hand-Pulled, Silk-Screened, Serigraph Print
Dimensions
Framed with One of Our Custom Fabric Liners
Limited Edition of 200
Hand Signed & Numbered by Shag (Josh Agle)
Accompanying Certificate of Authenticity
Free Shipping for Contiguous USA
Exclusive Custom Framing
Our custom framing is done with the utmost care and precision - each piece is done by hand by experienced craftsmen using the highest quality wood, vibrant color fabric liners, & plexiglass. Our custom framing is only available through The Shag Store, so you can be sure you're receiving the best quality frame.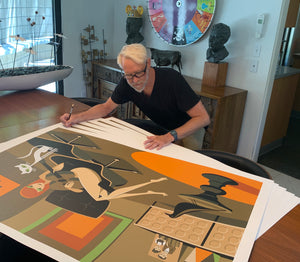 Signed by the Artist
This fine art print edition is signed & numbered by Shag. Fine art prints purchased with our custom framing also come tilted by the artist.