Delphine 2 Framed Fine Art Print | Orange Colorway
Shag's (Josh Agle) fine art print, Delphine, gives you a glance at the life of a Las Vegas showgirl getting ready to bring the glitz and glamour to the stage!  A rare limited-edition serigraph of only 66, do not miss a chance to have Delphine grace your wall!   
4 Color Hand-Pulled Silk-Screened Serigraph Print
Dimensions
Framed with One of Our Custom Fabric Liners
Limited Edition of 66
Hand Signed & Numbered by Shag (Josh Agle)
Accompanying Certificate of Authenticity
Free Shipping for Contiguous USA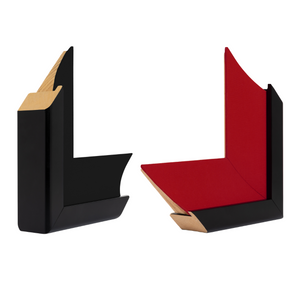 Exclusive Custom Framing
Our custom framing is done with the utmost care and precision - each piece is done by hand by experienced craftsmen using the highest quality wood, vibrant color fabric liners, & plexiglass. Our custom framing is only available through The Shag Store, so you can be sure you're receiving the best quality frame.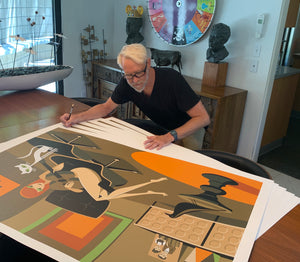 Signed by the Artist
This fine art print edition is signed & numbered by Shag. Fine art prints purchased with our custom framing also come tilted by the artist.