"The Third Generation" Fine Art Print | The Eames House
Shag (Josh Agle) invites you to the Pacific Palisades in Los Angeles to admire a treasured landmark of mid-century modern architecture with his fine art print, The Third Generation. 
The limited-edition serigraph features The Eames House, also known as Case Study House No. 8.  Designed and constructed in 1949 by famed designers, Charles & Ray Eames, it was their personal home and studio until their passing.  Shag was given a tour of the home by their grandchildren, who are seen in the fine art print alongside their grandparents, Charles & Ray.

Overcome with inspiration from the exemplary mid-century modern design and the gracious tour from the Eames' grandchildren, Shag channeled his energy into creating The Third Generation as his Modernism Week 2023 fall preview release for everyone to enjoy.

For more information about the Eames House and Charles & Ray Eames, please visit the Eames Office and the Eames Foundation 

10 Color, Hand-Pulled, Silk-Screened, Serigraph Print
Dimensions
Framed with One of Our Custom Fabric Liners
Limited Edition of 200
Hand Signed & Numbered by Shag (Josh Agle)
Accompanying Certificate of Authenticity
Free Shipping for Contiguous USA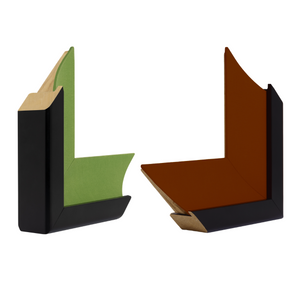 Exclusive Custom Framing
Our custom framing is done with the utmost care and precision - each piece is done by hand by experienced craftsmen using the highest quality wood, vibrant color fabric liners, & plexiglass. Our custom framing is only available through The Shag Store, so you can be sure you're receiving the best quality frame.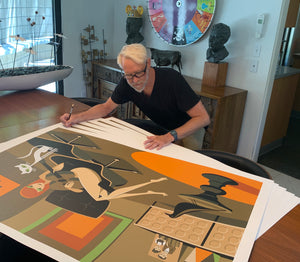 Signed by the Artist
This fine art print edition is signed & numbered by Shag. Fine art prints purchased with our custom framing also come tilted by the artist.